Festival for Art, Technology and Society
Linz Thu 4 - Tue 9 September 2008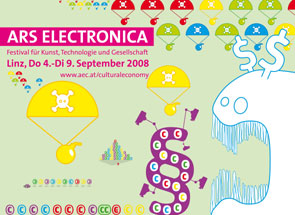 En 2008, on s'interrogera à Linz sur les limites de la propriété intellectuelle.
Sous le titre "une nouvelle économie culturelle - Les limites de la propriété intellectuelle" le Festival Ars Electronica 2008 pose la question d'une nouvelle société fondée sur la connaissance.
Ce qui est en jeu : l'interaction entre la liberté d'information et la protection du droit d'auteur, avec les règlements qui régissent cette nouvelle réalité, règles dont la formulation ne devrait pas être laissé aux seuls avocats.
Sur ce thème, Ars Electronica invite des artistes, des théoriciens, des techniciens et des juristes du monde entier pour des colloques, des expositions, des spectacles et des interventions qui transcendent les limites classiques et envahissent toute la ville.

A noter, le 08-09 Digital Musics in Concert
08.09. | 20:00 - 22:00
Brucknerhaus
et le 05-09,
A New Cultural Economy Symposium
The 2008 Ars Electronica Symposium is curated by Joichi Ito (J) - Activist, Entrepreneur, Venture Capitalist. Joichi Ito is the CEO of Creative Commons, a non-profit organization which provides free tools that let authors, scientists, artists, and educators easily mark their creative work with the freedoms they want it to carry. He is co-founder of and board member of Digital Garage in Japan. He is on the board of a number of non-profit organizations including WITNESS, The Mozilla Foundation and Global Voices. He has helped start or has been an angel investor in a number of Internet companies including PSINet Japan, Infoseek Japan, Flickr, Last.fm, Technorati, Six Apart, Dopplr,Twitter, Socialtext, Kongregate and Rupture.